Taking the mic: WAVIT working to create safe, inclusive, prosperous industry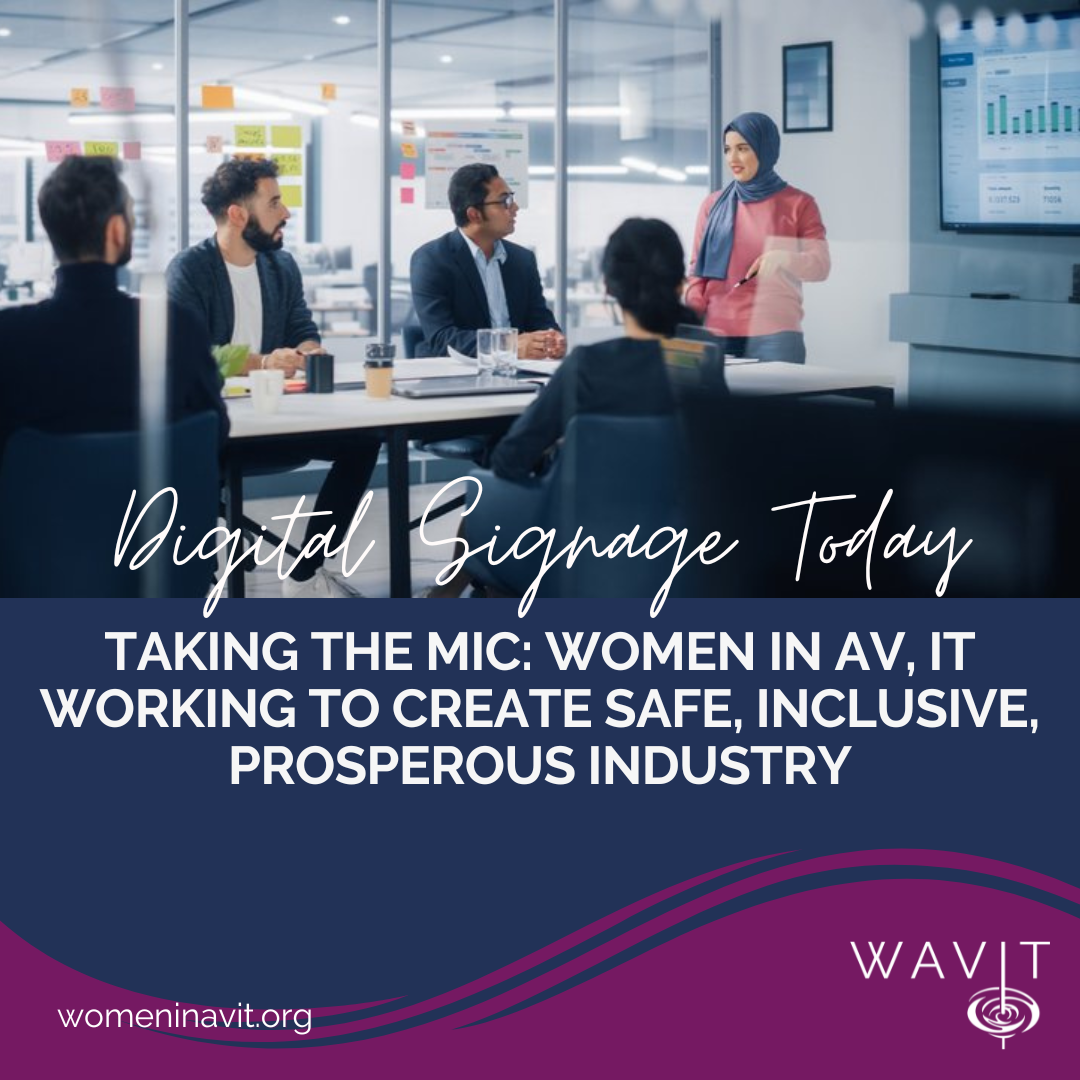 From Digital Signage Today Magazine - 
Taking the mic: Women in AV, IT working to create safe, inclusive, prosperous industry
Co-founders of Women in AV/IT join Digital Signage Today editor Daniel Brown via video link to discuss the state of women's issues and advocacy in digital signage, pro-AV and IT, along with strategies to build a more inclusive, safe and prosperous industry together.
Aug. 4, 2023 | by Daniel Brown — Editor, Networld Media Group
Brandy Alvarado-Miranda is co-founder and director at WAVIT. Image provided.
Megan A. Dutta is co-founder at WAVIT. Image provided.
Digital signage and pro-AV have always had a reputation for being something of a "boy's club," with the vast majority of professionals historically being comprised of males. That's been changing fast, however; as reported in this publication, the industry has made it a top priority to recruit and welcome diverse professionals, and the number of women in leadership roles is on the rise, with companies like Austria-based global digital signage firm Easescreen actively recruiting to diversify leadership; this Spring, the ANZ market saw the launch of "The Aunties," an advocacy group devoted to supporting inclusion and diversity for professionals in creative fields like DOOH advertising.
Brandy Alvarado-Miranda is founder/director at Women in AV/IT (also known as WAVIT), a nonprofit organization devoted to fostering solidarity, community and advocacy among and for women in the digital signage, professional AV and IT fields. Alvarado-Miranda and WAVIT co-founder Megan A. Dutta joined Digital Signage Today editor Daniel Brown to share more, including ways for professionals in these industries to collaborate to make them a more inclusive safe space for all participants.
Personal stories fuel revolution
Alvarado-Miranda shared her story of starting in the AV and digital signage industry years ago as a young professional with no idea what to expect, starting her career by attending a major industry conference in 2014.
"I recall being in my booth as an exhibitor at a show going, 'there's a lot of men!'" Alvarado-Miranda said. She found solace and solidarity at the annual AVIXA Women's Council breakfast, along with kindred spirits, but there was a catch, as expressed by a fellow attendee. "What really sucks is that we only do this once a year. And then, the rest of the year, we're just aching and dying for this sort of female companionship and support and that feeling that you get when you're together in a safe space and have common goals."
Alvarado-Miranda quickly became involved in working to change this, including service as chair of the AVIXA Women's Council. The response was overwhelmingly positive, showing that women in the industry craved this kind of community. "We had a rapid growth in three years — we went from zero to about 1,000 members and from zero local groups to 50 within three years," Alvarado-Miranda recalled, noting that the machinery of existing organizations wasn't agile enough to make rapid changes possible to meet demand.
COVID pandemic made matters worse, including large numbers of layoffs that disproportionately impacted women, along with a large number of women feeling they needed to leave the industry to care for their families, Alvarado-Miranda said. This led her, Dutta, and other kindred spirits to meet virtually during pandemic to lay the groundwork for WAVIT.
"We didn't just want to be just another women's organization," Alvarado-Miranda said. "We wanted to be one that would collaborate and be the glue between all of the associations," along with helping to recruit and retain women in the digital signage, AV and IT industries.
A strong example of the ecosystem, collaboration and "coopetition" movement covered in this publication, the goal of WAVIT was to foster inclusion and collaboration to benefit everyone, "so that we can bridge the gap and take some action," Alvarado-Miranda said. "Because we talk about diversity, we talk about inclusion, we talk about… safety for women and all this, but we need to do something. We need to act. This is a very action-minded organization."
Double standards persist
One core goal is to initiate reforms in the culture and the way women are treated, including outdated and unfair standards based on gender. For example, Dutta recalls starting in the industry in 2006 at a manufacturing firm.
"When I started, I was a coordinator, I wasn't management by any means," Dutta said. "But I was told you have to essentially listen to what these executives say, and that's how you do your job, they make the decisions. And then I got pulled in and told, basically, 'hey, you need to step it up, you need to be making these decisions.'
"I was like, 'Wait, I'm confused. That wasn't what I was told.' And when I started doing that, I noticed I started getting treated differently. And then it got to a point where I was told I had to work on my 'soft skills' in a review, and say things like 'please and thank you.'"
But Dutta was already being polite and courteous, and said that it was clear that this wasn't the real problem. "I was being told to ask people to do their job, instead of telling them," Dutta said. Dutta also faced sexist accusations familiar to many professional women, such as being overly emotional.
"I brought it up to management and said, 'I have never heard you say that to a man. And I don't think you're saying that to men in this company.' And I went through some sexual harassment issues during my time in the industry. All of this was hush hush, you know, people weren't talking about it. And then I started making more friends in the industry and branching out and I realized I wasn't alone in these experiences. These were, unfortunately, pretty common experiences."
Finding and building community with activists and professionals like Alvarado-Miranda helped Dutta feel less alone and optimistic for change.
"We're all passionate about making this industry a better and more diverse place," Dutta said. "We want to be action-oriented. And one of the things that I've heard from women of color is that they've joined in efforts for other groups, and they didn't feel like that was a place for them…
"I want to make sure we're including women of color, because their experiences are different from ours. You know, as a white woman, I'm treated differently than a woman of color. And we want to make sure we're making a place for everybody. And not just women — those that are non-binary, or men that want to be supporters. We want to make a more inclusive industry and really make a difference."
Creating safety starts with conversations
Starting conversations and working together on the difficult issues in an open way, including sexual harassment and safety questions, whether at industry events or after-hours venues or even at companies during regular operations, is a vital starting point.
"What we encounter as women, you know, from a sexual harassment standpoint, you know, varies from person to person," Alvarado-Miranda said. "It's inappropriate, it's unwarranted and unwanted." She summoned her courage to share some of her experiences in a blog a few years ago. "And some of the responses that I got from men were, 'Well, I've seen stuff go on, I just didn't know what to do. I saw my colleague being groped, God forbid, I didn't know what to do.' To me, it's shocking and disgusting. At the same time, you didn't know what to do, you saw something that was inappropriate happening, that was not right. And yet, you didn't stand up."
Unfortunately, Alvarado-Miranda said, there is still something of a hush-hush culture or a shame culture around these issues, and those who experience or witness inappropriate behavior often feel pressured not to say anything.
"And for me, this issue specifically, is something that we have to educate people about — if you feel like you're being harassed, if you're feeling off, if something's not right — you need to have those governing bodies that you can go to, to say something," she said.
Creating a culture where women and men both feel empowered to speak up is the key.
"And this is not how to be combative," Alvarado-Miranda added. "It's how to speak up and how to mitigate and help somebody... Going forward, these victims really need to have a safe place, they need to have some potential guidance after the fact on how to report and how to feel better and then return to the workforce and return to these events. I've also had ladies tell me — and, you know, this is really sad — 'I don't want to go to that networking event, because I know something's gonna happen.'"
A younger, incoming generation of executives and event managers have begun pushing for alcohol-free event options, not only to foster safer environments for all but to be inclusive of those who don't imbibe alcohol for personal or religious reasons. It's part of a bigger push towards inclusiveness and empathy, both Dutta and Alvarado-Miranda noted, and it's the perfect time to join together and work out ways to build on this progress.
Beyond ethical considerations, data consistently shows that the more diverse and inclusive the industry becomes, the higher retention, productivity, and profits become.
Echoing industry leaders like Stephen Dorsey and Michelle Montazieri, the growing change movement leans heavily on the power of data-based decision making, in which data consistently show the value of "doing good to do well."
Share this post: