PR-WAVIT Offers Free Commercial Integrator Expo Passes to Members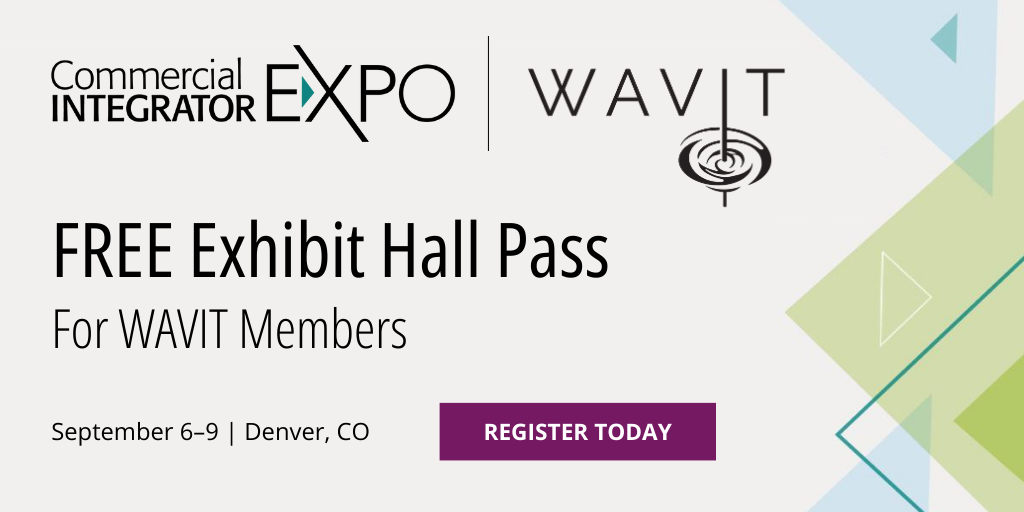 Anaheim, CA – August 16, 2023 – Women in AV/IT (WAVIT) members, a 501(c)(3) nonprofit organization dedicated to supporting and empowering women in the AV and IT industries, has partnered with Commercial Integrator Expo (CIX) to provide its members with a complimentary full conference registration for the CIX program and exhibit hall access (a $549 value). 
"Commercial Integrator Expo is thrilled to be partnering with Women in AV/IT on our upcoming event in Denver," said Jason McGraw, CTS, group vice president for CEDIA Expo, Commercial Integrator Expo, and KBIS, Emerald. "The group's mission of supporting and empowering women in the AV and IT industries aligns with our own DEI goals and we're excited to welcome their members to our inaugural show this September." 
"One way we can help reach gender parity in the AV/IT industries is through networking and education," added Susan Wilhite, WAVIT board member and senior director, business development at Bluefin. "Working with Commercial Integrator Expo and offering our members a free education and show floor pass allows us to create both networking and education opportunities. We're thrilled to be working with the CIX team and looking forward to the show in Denver." 
Commercial Integrator Expo 2023 will be co-located with CEDIA Expo 2023 from September 6–9, 2023, in Denver, CO. WAVIT members can obtain their free pass by visiting https://registration.experientevent.com/ShowHTP231?flow=CIE&MarketingCode=EMNPCIXWAVIT. Alternatively, they can use promo code "EMNPCIXWAVIT" during the registration process. 
About WAVIT, Inc.
WAVIT is a 501(c)(3) organization created by and for women in the AV/IT industries. Our goal is to provide a network that supports and empowers women through education, representation, and inclusion. We know that ripples make waves, and to grow our equity, we must support women in any way that makes them feel safer, more comfortable, and more confident. It all starts with a ripple. We encourage women to be fierce, bold… and make waves! womeninavit.org.

Media Contact
Brandy Alvarado-Miranda                                          
BAM Marketing & PR Agency
[email protected]
(714) 655-7225
Share this post: